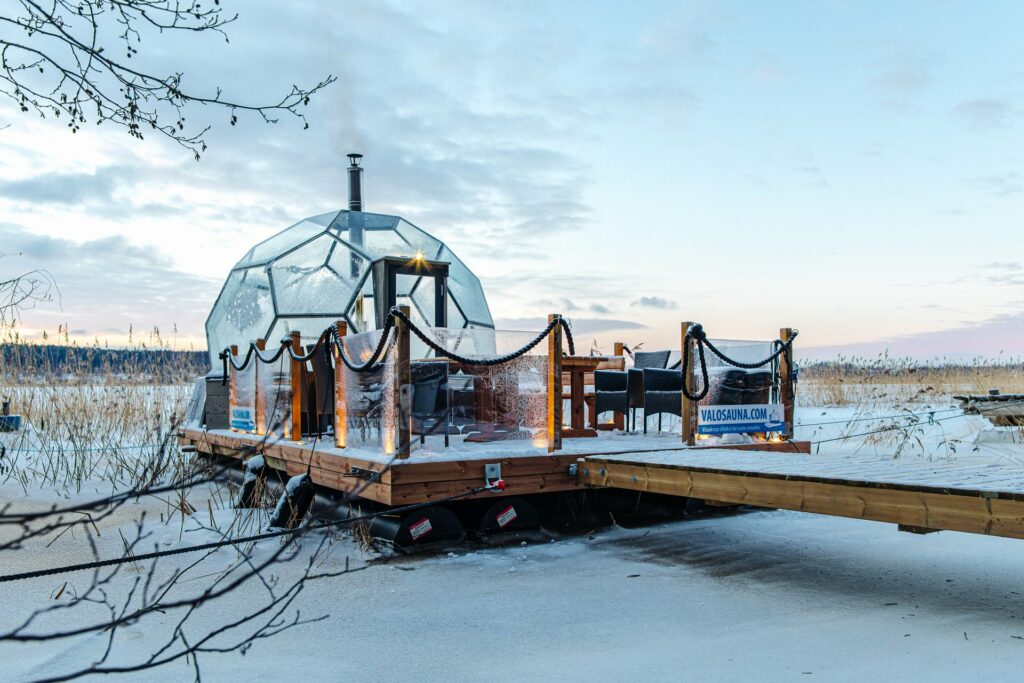 Experience Finnish Sauna
An essential part of visiting Finland is taking sauna. Just choose your favorite kind and get an experience you will never forget.
Finland has about two million saunas, most of which are regular home saunas. However, Finns like to get the most out of their sauna experience. Try sauna in a yurt, a barrel, a glass igloo, or a cave on your visit to the East Coast. A dip in the cold water is the perfect pair for a hot sauna. Here you can swim in the Eastern Gulf of Finland or the mighty Kymi River.
East Coast sauna experience awaits only an hour's drive from Helsinki.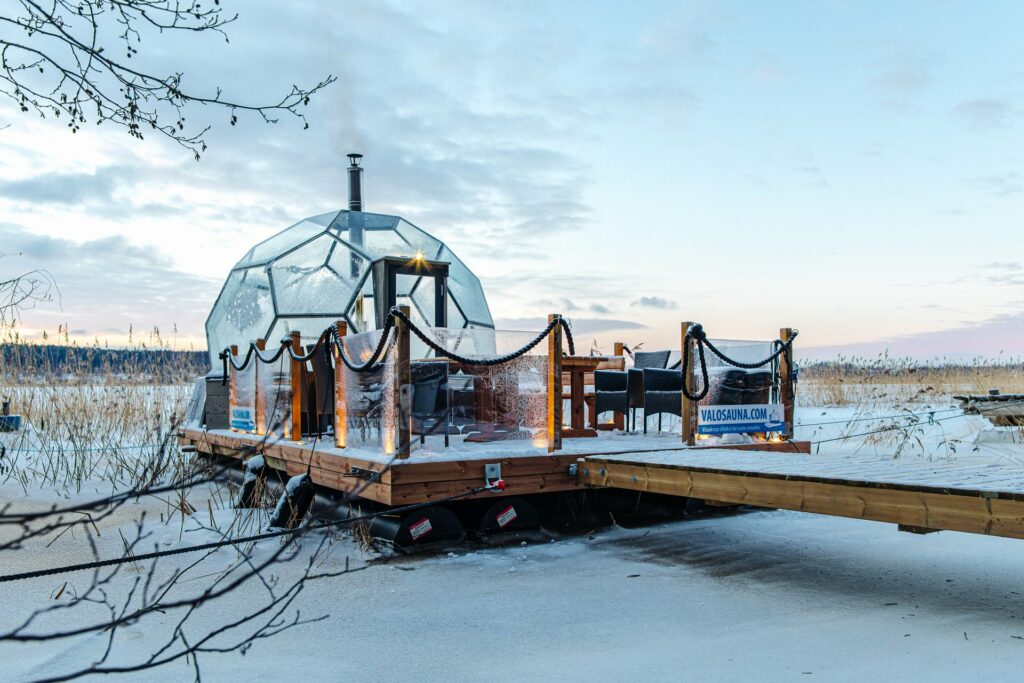 Igloo Sauna
Relax in the soft warmth of the Igloo Sauna at the picturesque fairytale-like view over the town of Loviisa. This glass sauna floats on Loviisa Bay, next to a nature reserve. From the jetty, you can boat or walk, skate or ski during wintertime to Svartholm Sea Fortress, situated at the mouth of Loviisa Bay on the Eastern Gulf of Finland on the Baltic Sea.
Igloo Sauna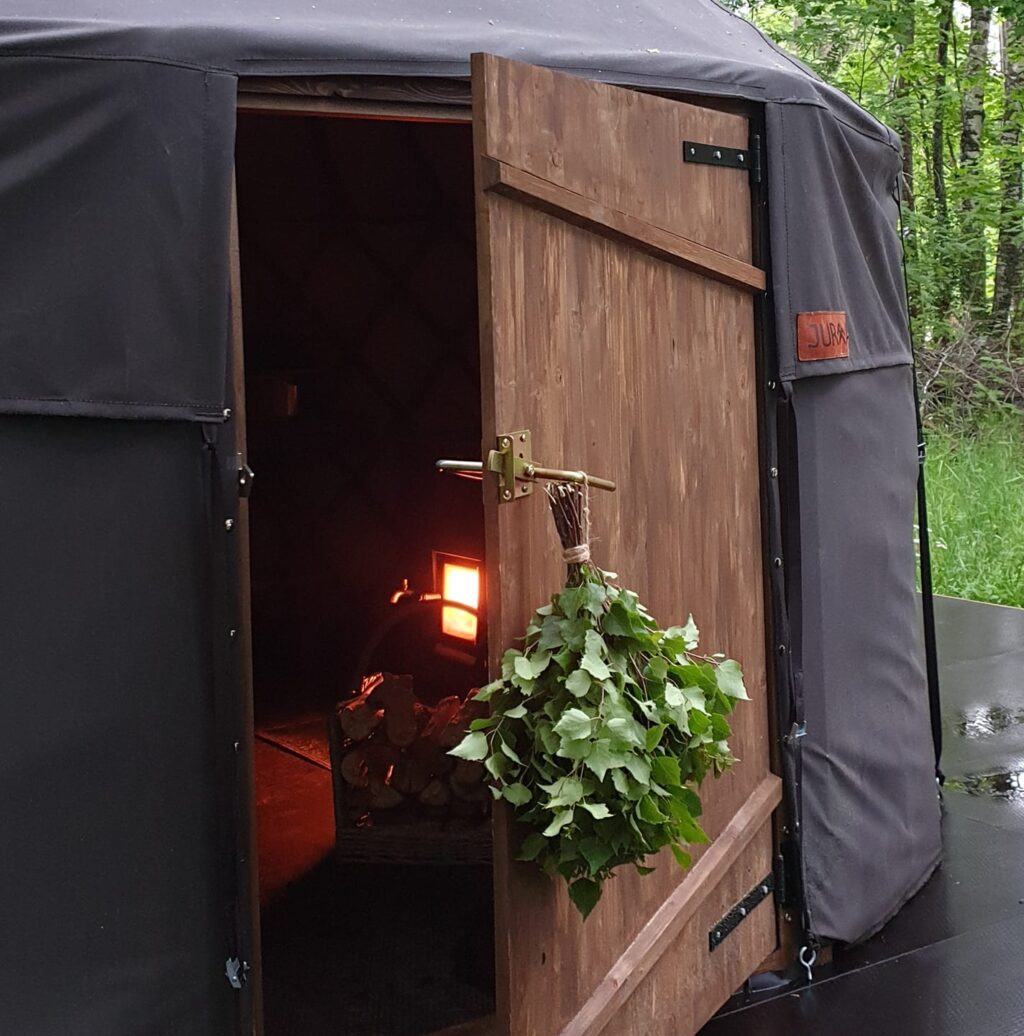 Sauna Yurt
Find peaceful relaxation in the Sauna Yurt amidst the historic village of Strömfors. Add wellness treatments, hot tub, glamping, and hiking or kayaking to your package, and you will have an unforgettable experience for both body and soul. Why not stay the whole weekend in the relaxing atmosphere of the old ironworks village, surrounded by beautiful nature? Strömfors Wellness will provide all this for you.
Strömfors Wellness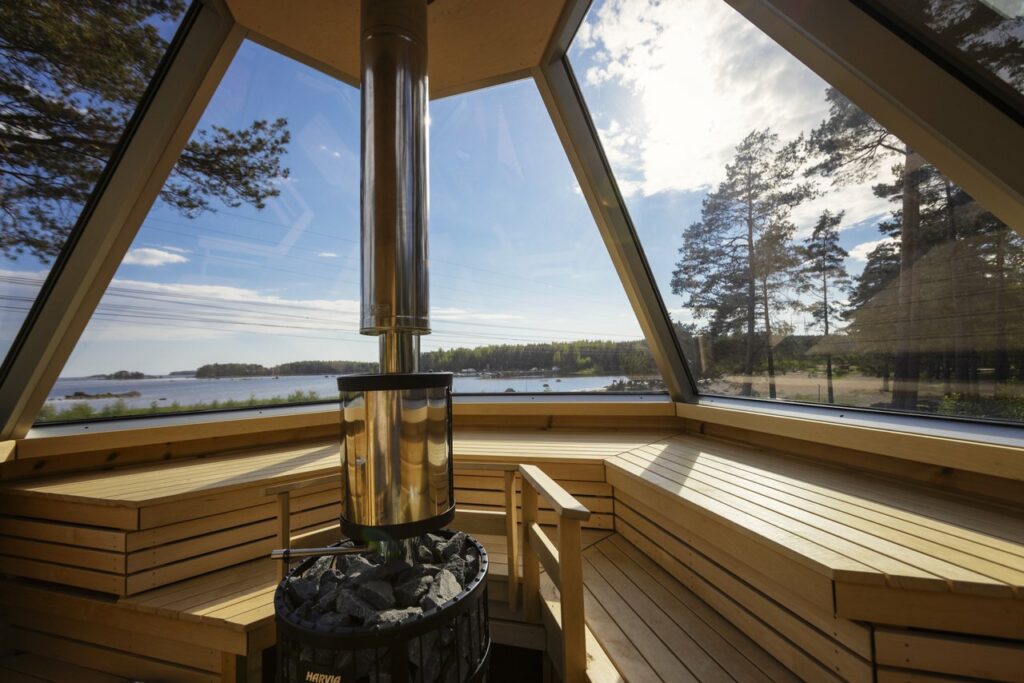 Santa Glass Sauna
Admire beautiful seascapes from the saunas of Santalahti! This five-star resort offers abundant sauna experiences for various purposes and wishes. Would you like to take a traditional smoke sauna in a cave or the unique experience of a glass-roofed sauna with a sea view? Combine your favorite with relaxing in a hot tub and a stay of your choice, either in a traditional cottage, luxury apartment, or a unique luxury glass villa with a private hot tub. This is where Finnish celebrities come for a romantic getaway, so why not also you?
Santalahti Resort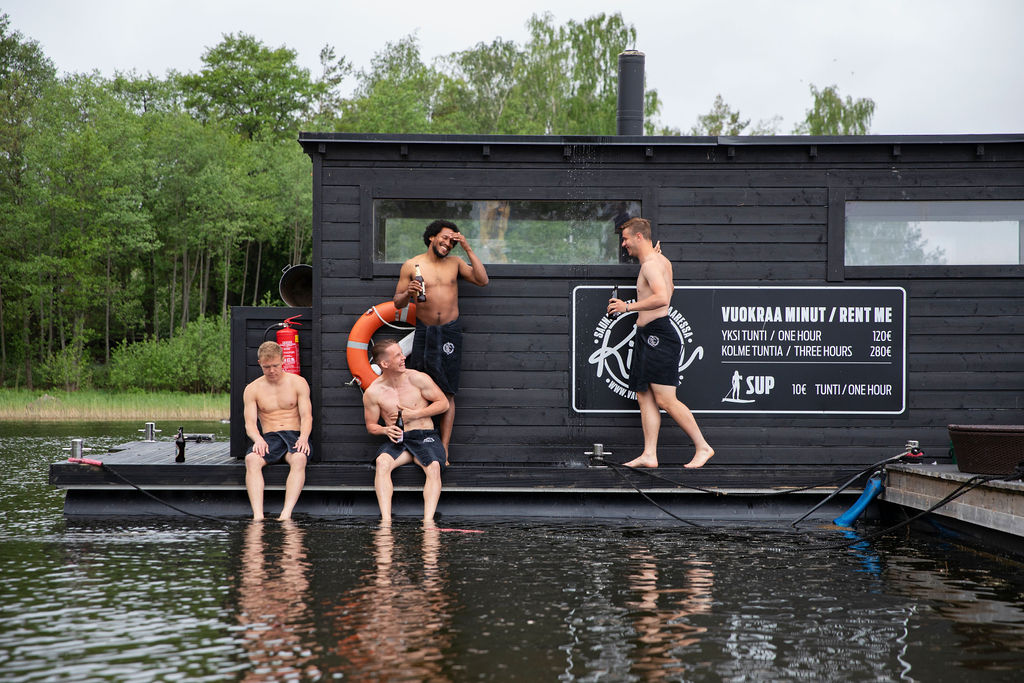 "Kiulu" the Floating Sauna
On a sunny summer day, hop on a boat to take a 10-minute journey to Varissaari Island, located off Kotka, to enjoy bathing in Kiulu, the floating sauna. On Varissaari, you'll find a fantastic summer restaurant Vaakku with almost 360-degree seascapes, a charming nature walk, and a pavilion presenting the history of Fort Elisabeth and the most significant sea battle in the history of the Baltic Sea. Here you can also play beach volleyball, go sub-boarding and take a RIB boat to the archipelago. Locals love Varissaari – don't miss it!
Restaurant Vaakku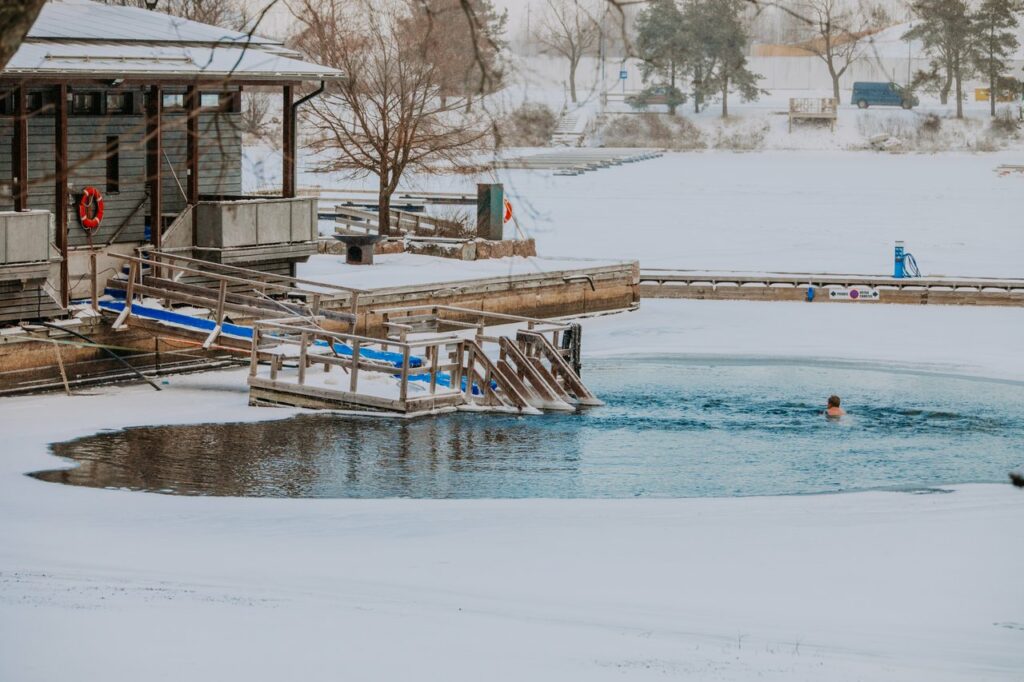 Marina Cafe Laituri
Sapokka Marina in Kotka is a favorite among many locals and travelers. It has idyllic seascapes, many cafés and restaurants with outside seating, a gorgeous park with a waterfall and a pond, and Maretarium – an aquarium for Finnish fish. During winter, you will see people walking on ice and fishing at Sapokka. The marina also has a sauna, and it is heated every day. Locals love to go cold-water swimming here. So, if you're up to a unique experience, we highly recommend trying it!
Marina Cafe Laituri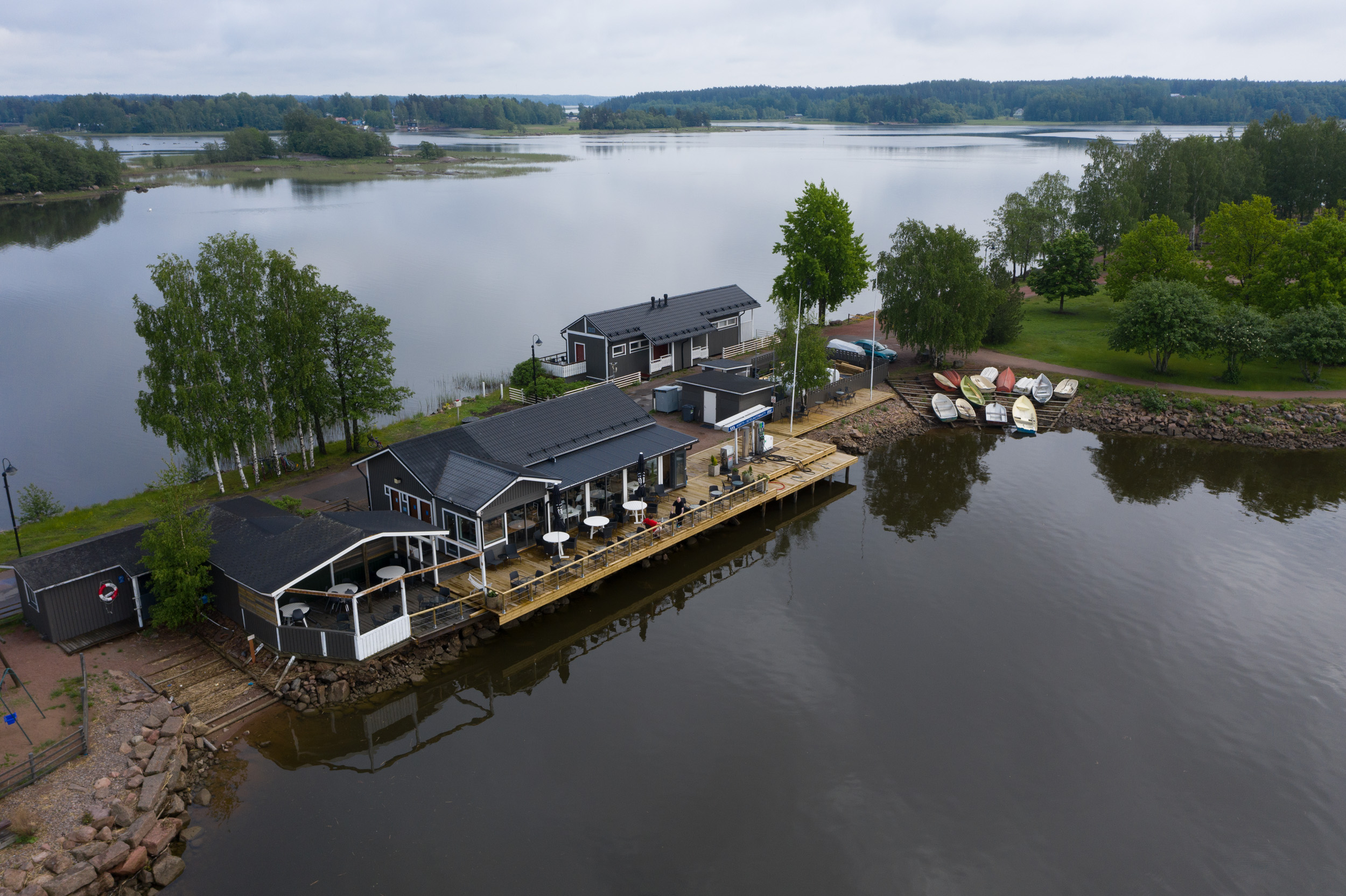 Rampsi Kitchen & Lounge
Another great place to take a sauna and a swim is Rampsi Kitchen & Lounge, situated on Tervasaari in Hamina. It has a summer restaurant, a sauna, and a hole in the ice for those who enjoy swimming in the winter.
Rampsi Kitchen & Lounge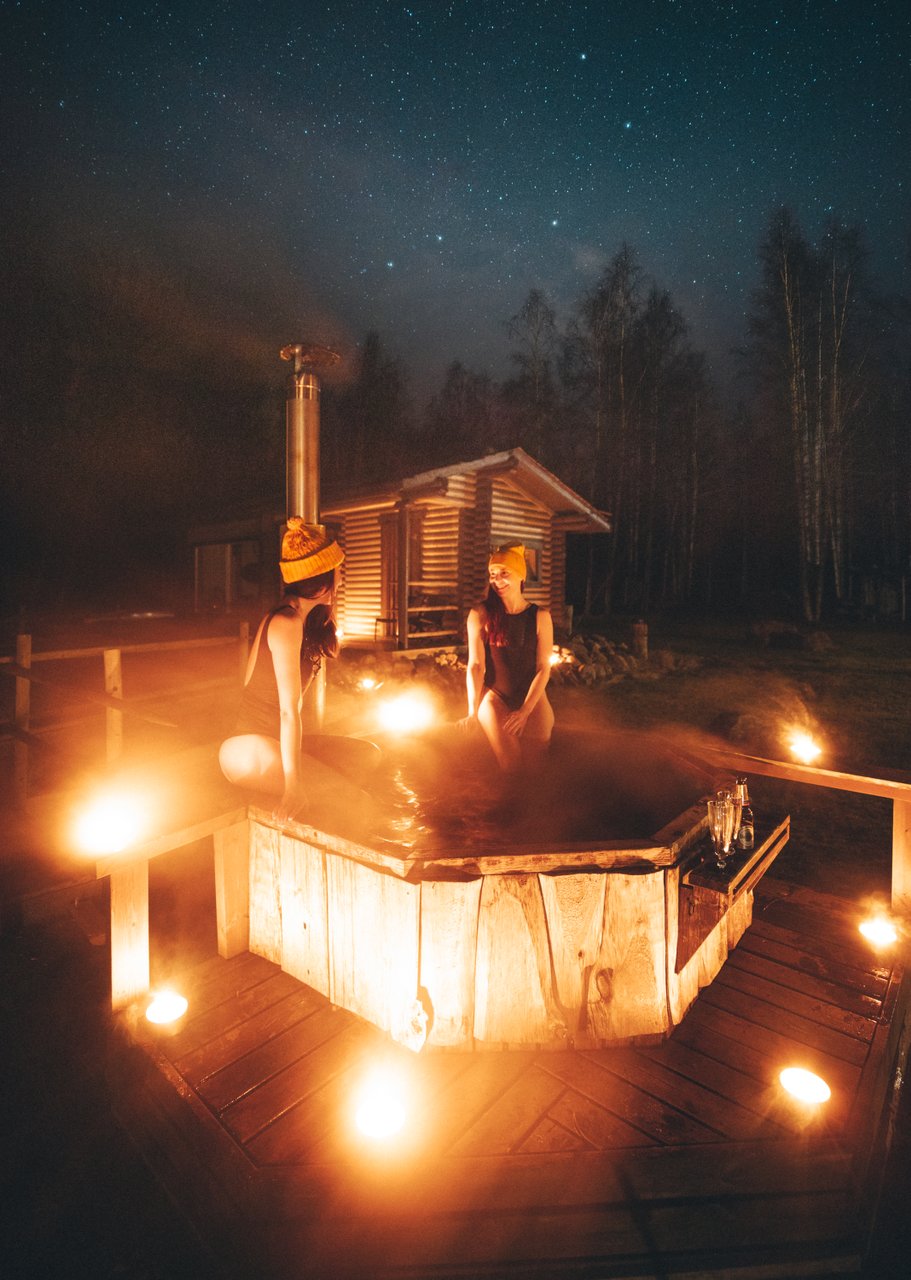 Erämys Keisarin Kosket
Experience the traditional wood-heated sauna by the mighty Kymi River. Take a dip in the refreshing water and return to the warmth of a barrel sauna or a hot tub. Erämys Keisarin Kosket offers river cruises, white water rafting, and many other river activities, such as river yoga. Book a stay in a cottage or a Laawu Hut with a view of the river. You can also add meals to your package.
Erämys Keisarin Kosket