Winter Adventure Awaits at the East Coast of Finland
The East Coast of Finland warmly invites you to spend your holidays amidst its stunning landscapes. Enjoy the unique beauty of a Finnish winter in the snow-rich forests of Southeast Finland. Gaze at a river that steams and sparkles, surround yourself in the middle of a rugged Finnish landscape or walk along the shores of the open sea where you can admire the unforgettable sunrises and sunsets of the crisp and frosty days in pink, purple, blue and orange.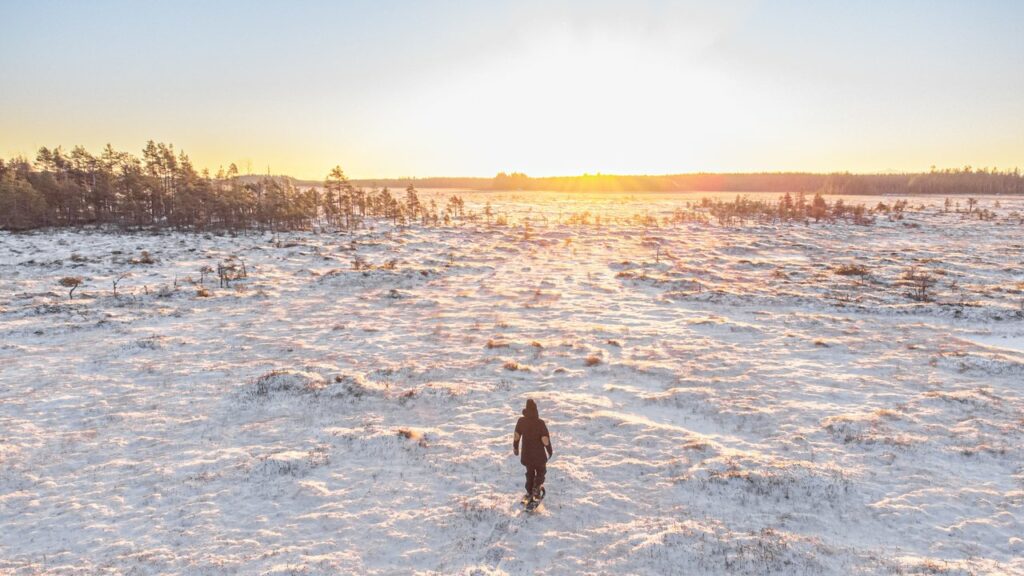 The Kotka, Hamina and Loviisa regions have abundant options during the winter months. Stay in atmospheric seaside towns, picturesque villages or next to the endless fields and forests of the idyllic countryside. Try skiing, skating and snowshoeing and go on a snowmobile safari. All of this is just an hour's drive east of Finland's capital city, Helsinki, and its nearby airport.
The Sparkling Crystals of the Mighty Kymi River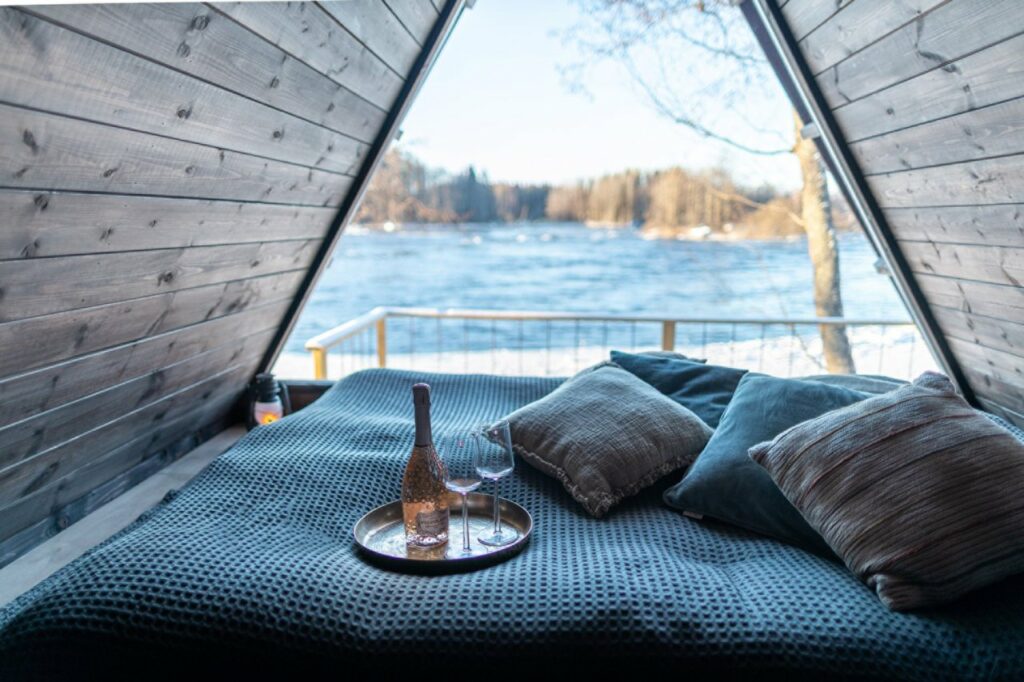 The Kymi River is nature's work of art, with waters flowing through its many branches, meandering from east and west en route to the Gulf of Finland. The river's waters flow all year round, even in winter, but the dramatic and spectacular mist and crystal formations make this time of the year extra special. The sky is filled with sparkling glitter in the sunlight, and the horizon glows in warm hues.
Amid these breathtaking sights, enjoy a stay in some truly unique accommodation options, such as those on offer from Erämys – Keisarin Kosket. Stay in their one of a kind LaawuKultaa hut and its unspoilt riverside views. Erämys – Keisarin Kosket also has cottages and villas on offer, as well as a riverside sauna, where you can enjoy warm baths in unspoilt nature – perfect after a snowshoeing or skiing trip. Pack a snack, though, as you'll have endless views of the landscape to admire along the way and in your accomodation. If you're lucky you'll witness the Aurora Borealis or otters snacking on small fish on the edge of the ice just outside your window.
Frosty Blue Bog in Orange Sunrise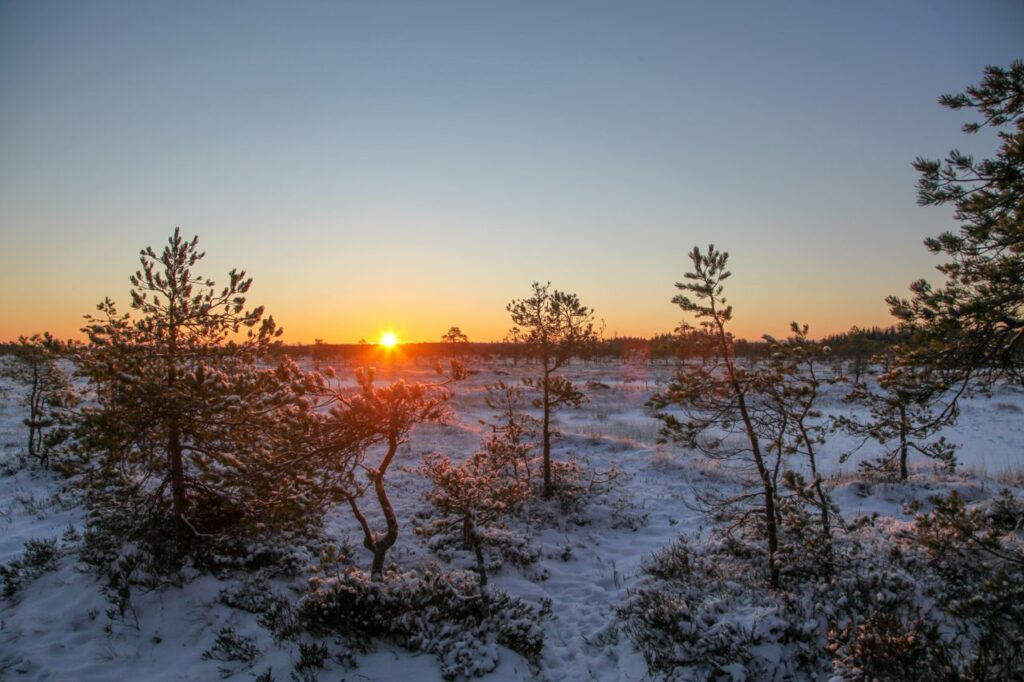 Valkmusa National Park is quite the winter wonderland as well! In Southern Finland, open natural bogs are a rarity, and the frost-bitten small pine trees give a feeling of being up in Lapland. While you are here, we highly recommend taking the Läntisen Keitaan route at sunrise, starting from the parking lot of Vastilantie and going in a counter-clockwise direction. Along the way, find yourself a spot to stop and take in the view of the sun as it rises slowly above the pine trees and gives a beautiful orange glow over the frosty-blue Finnish landscape – a breathtaking experience well worth witnessing.
There are two trails of less than three kilometres in Valkmusa National Park. Along the Läntisen Keitaan route, you can climb the bird tower to admire the Finnish landscape, and on the Morovuori route, you can rest by the campfire. Valkmusa is also a great place for snowshoeing and skiing activities. Additionally, it's easy to tailor the length of the trail as you wish, such as for shorter outdoor activities with children or longer adventures for yourself in the wilderness. Just a short drive away from all of this, you're already at one of the local restaurants and just a few steps more from a warm, ready-made bed in either a hotel or an experience accommodation in nearby Kotka, Strömfors Village or the Loviisa city centre.
Charming Old Loviisa by the Sea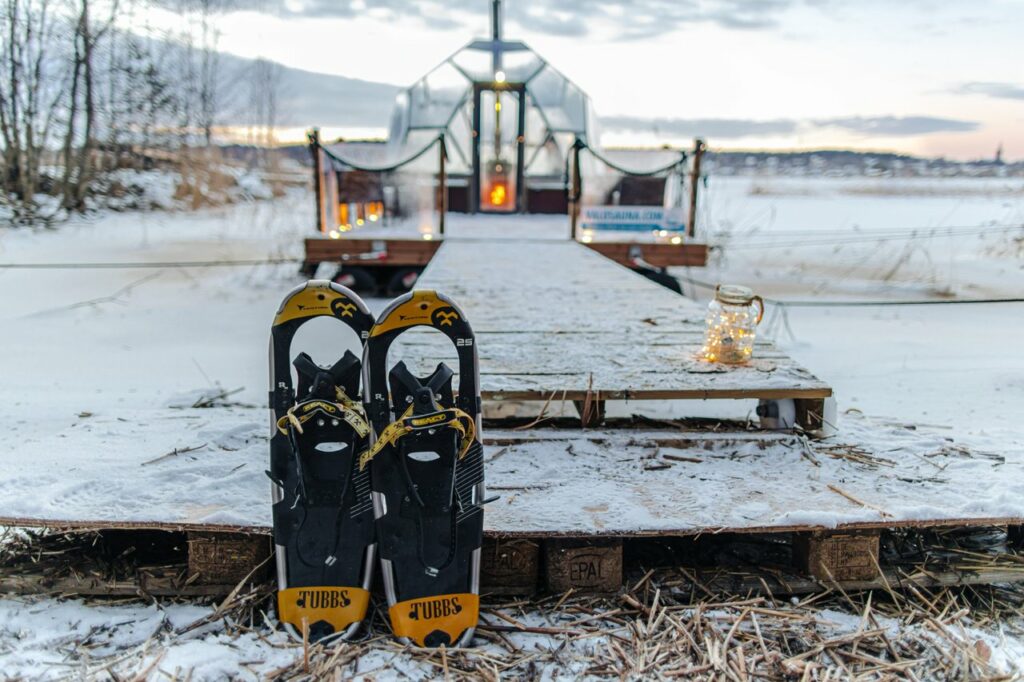 On a clear winter's day, you'll witness a pastel painting-like view on the Gulf of Loviisa's shores. With an array of colours, from pale blue to pink, and the rare turquoise, orange and violet hues, you are at just the right place to take all of this in at the marvellous Igloo Sauna, built right on the sea.
When the ice is firm, admire Loviisa's idyllic wooden town on the slopes of Loviisa's Myllyharju in the distance as you do a bit of ice skating from the Valosauna pier. The next morning, you'll wake up to the sunrise and the town of Loviisa getting ready for a new day from across the icy sea. Harudden Nature Reserve is also situated quite close by, ensuring a peaceful night's sleep.
Winter Activities on an Island City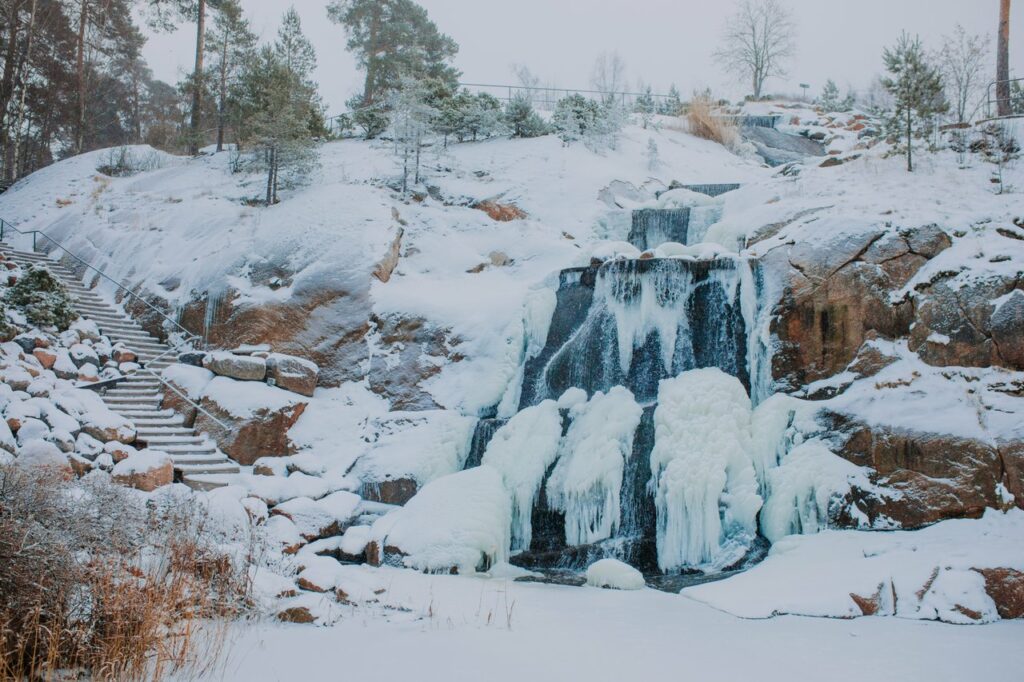 Have you ever seen a frozen waterfall? Sapokka Park in Kotka gives you the perfect opportunity. The famous, award-winning parks of Kotka are stunning all year round.
You can also take the rare opportunity to walk along the frozen sea to Varissaari island, finishing off with a nice cup of hot chocolate at Vaakku, the island's restaurant. We do, however, recommend checking Vaakku's website for the latest bulletins on opening hours and ice-walking conditions and following the guidelines beforehand to ensure safe passage.
Walking, skiing and skating on lakes and the sea is popular in Finland during winter months, but only after a long period of proper minus degrees. You can drill a hole in the ice and go fishing, or visit a site where a larger hole is maintained and go swimming.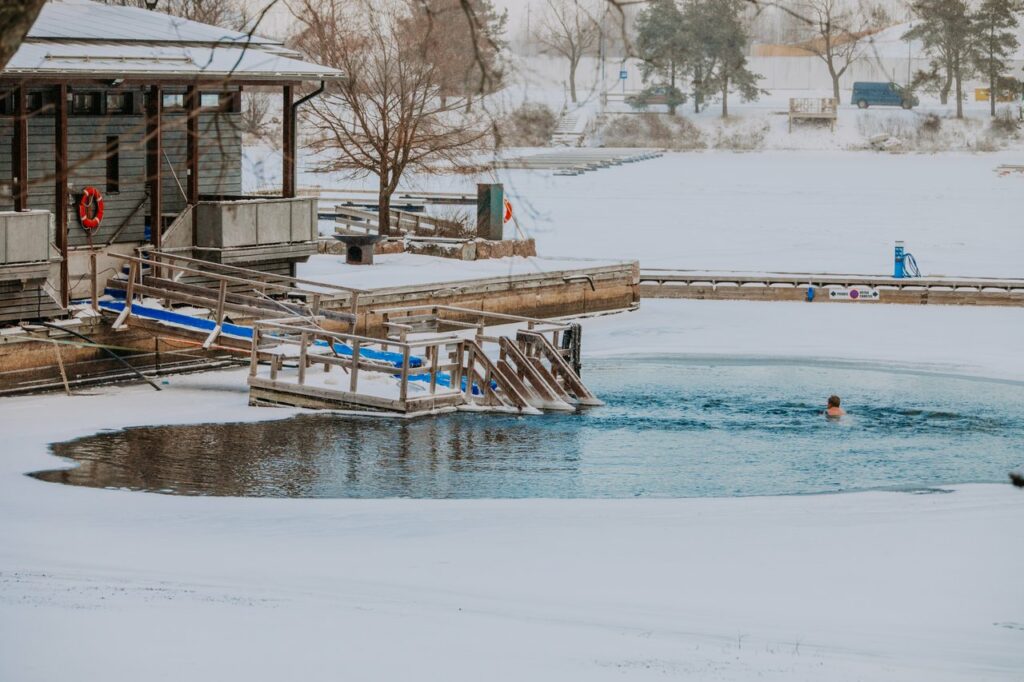 Islands become closer, suddenly just a stroll away, instead of requiring boats or bridges. Remember to be careful, though and don't go out alone. Ice conditions can change and weaken from one day to the next, sometimes from hour to hour. It's also advisable to look out for shipping lanes, but in any case, if you are unsure, follow the crowds of locals.
Kotka is also a great city destination for all seasons, also on land. Vellamo Marine Centre is the most popular tourist attraction in the area. For quality accommodation, you can stay at the Original Sokos Hotel Seurahuone with all the services and restaurants of the city centre at hand. See all of Kotka's attractions here.
Trekking in Snowy Forests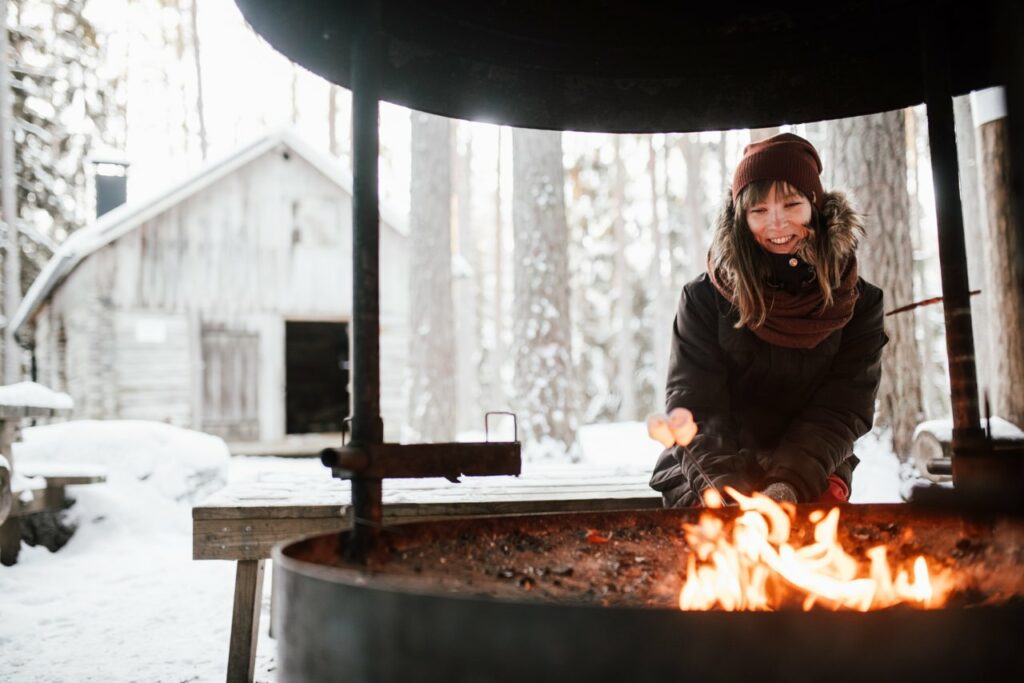 For a spot of nature walking, the nature trails near the sea in Santalahti are a delight in all forms of weather, especially at sunset. At the Santalahti Resort, you can enjoy top accommodation and, for example, rent snowshoeing equipment.
Suppose you're looking for rugged, snowy forests. In that case, we highly recommend the forest trails, such as the Salpa Trail, which you can access from Miehikkälä's Salpalinja Museum or Virolahti's Bunker Museum. Even in winter, the perimeters of the Virolahti Bunker Museum offer plenty to see and experience. In the nearby Myllylampi outdoor recreation area, you can enjoy the wooded landscape and glittering snowy slopes of the border region.
A Touch of Luxury and a Thousand Stories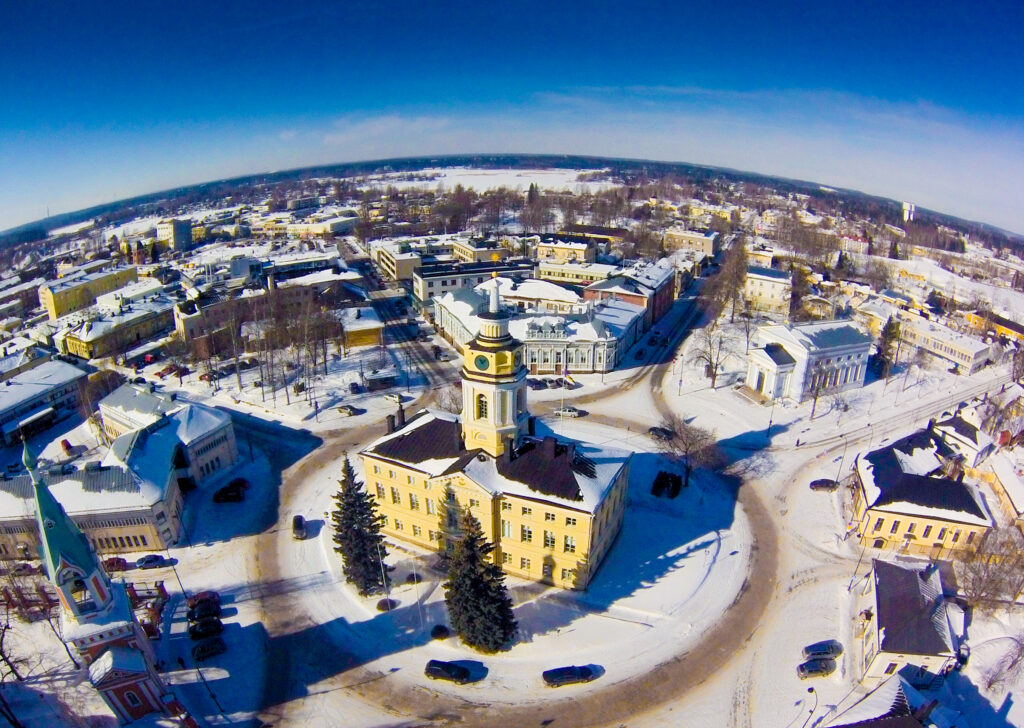 You can easily combine all of this adventure with a touch of luxury by taking a dip in the warm pools of the Hamina Fortress Spa. SpaHotel Hamina offers you and your young ones a comfy bed and a sound sleep ready for the next day's adventures in Hamina, the town of a thousand stories.
This unique circular town, built within a Fortress, has plenty to see and experience, including beautifully preserved historic buildings – each with a story to tell – and the world's largest Finnish flag, aka the Monumental Flag.
Come soon for a thrilling winter experience in Kotka, Hamina and Loviisa, just an hour's drive east of Finland's capital city, Helsinki, and its nearby airport. Best time to enjoy a snowy holiday is the months of January, February and March. A warm welcome to the East Coast of Finland!